Ermesponti has developed many projects in UK, with a special focus on London.
Recently, word of mouth and a mutual friend brought us in touch with a young couple.
Over drinks in a pub we chatted about their needs and showed them samples of our work and materials. They were most enthusiastic about the excellence of what we do. We soon felt they were on our wavelength and they engaged our services.
A second meeting, after a couple of weeks, involved us producing fresh samples and three-dimensional drawings of the project which now came to life.
They were keen to proceed immediately following rough details of budget and timescale.
A final meeting on site covered a thorough survey of the home and details of custom-made materials, final drawings and costs. Time was of the essence and it was crucial in the final agreement.

It took us just a week to finalise our production drawings, to order all the necessary materials and allocate the work to our craftsmen.
All in all, production in our workshop was finished in a fortnight.
Then our same craftsmen were able to install everything on site in the space of a week.
DESCRIPTION OF THE PROJECT
The main aim of the project was harmonizing the Arts-and Crafts style of the house and the new concrete extension on the backyard. We designed a timeless bespoke interior where the furniture is completely dovetailed to the architecture.


The project consists of three main parts: the kitchen with a special
cupboard overlooking the living room; the wall panelling  in the dining room with a small seating area inside the bow window and a niche for the wine in the corner; the bookshelves divide the dining from the sitting room.
Each part is different but related to the other and  you can easily find a common thread which gives harmony to the overall ground floor.
In line with the owners' needs, we designed a unique interior using minimalist forms and custom-made materials. The subtle contrast between the different materials gives a sophisticated impression.
They are the perfect expression of Ermesponti craftsmanship that gives careful attention to each single detail.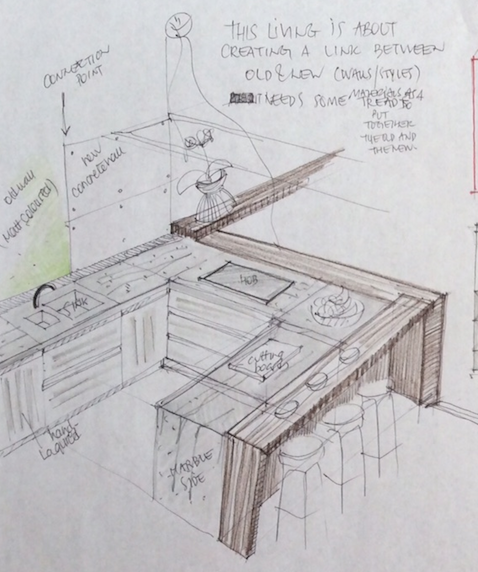 The owner loves cooking.
Her kitchen has been specially designed accordingly with a wide range of appliances and units.
Each unit, for example, is made of marine plywood that is completely water resistant, is the highest quality and normally used just for yachts.
The texture of doors and drawers is engraved oak made just for the owners in our workshop, paying special attention to the tones of the varnishing.

So much care was devoted to every single wish or need of the owner.

A further example was the three pull out units to display such a collection of herbs and spices you can see in the following pictures: the end result met with her complete and full satisfaction.
.Stay tuned for further updates on the Nightingale Lane home: coming soon, as soon as we get more pictures done!