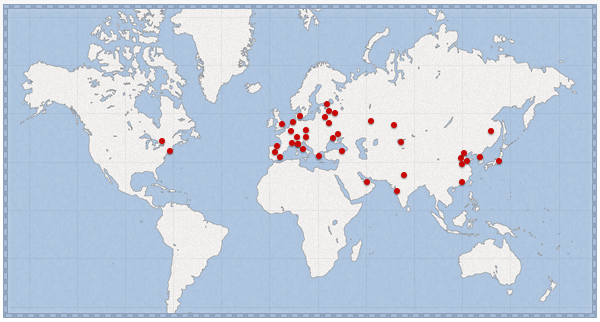 Bring our world to the world: it's part of our everyday work.
In our world, the work of the mind and the work of the hand go nicely together.
In our world, the "design by" approach is not the preferred option, we care for the "designed for"attitude.
In our world, there are no superstar architects, but every piece of work is enriched by many talents, people who know how to work together from first sketch to the turnkey delivery.
The ermesponti method has been appreciated in many countries for many years now.
We are often seen as an ambassador of the "Italian know-how" in the field of top design and realization.

A reputation that honors us and to which we're deeply committed.
That's where, in the world, you can find ermesponti's work:
London – UK

Paris, Aix en Provence – France

Granada, Santander – Spain

Amsterdam – Netherlands

Athens – Greece

Prague – Czech Republic

Donetsk, Odessa, Kiev – Ukraine

St. Petersburg, Moscow, Kazan, Krasnodar – Russia

Almaty, Astana – Kazakhstan

Vilnius – Lithuania

Istanbul – Turkey

Doha – Qatar

Dubai- UAE

Beirut – Lebanon

Minsk – Belarus

Yerevan – Armenia

New Delhi, Mumbai, Hyderabad, Bangalore – India

Beijing, Harbin, Shanghai, Chengdou, Shenyang, Dalian, Wenzhou, Chongqing, Shenzhen, Taiyuan, Hefei, Changsa, Suzhou, Bengbu, Wuhan – China

Tokyo – Japan

Baku – Azerbaijan

Toronto – Canada
To see for yourself our creations spread around the world without… travelling, just download our presentation from the link below.
Click and download ermesponti – bespoke interiors' presentation .