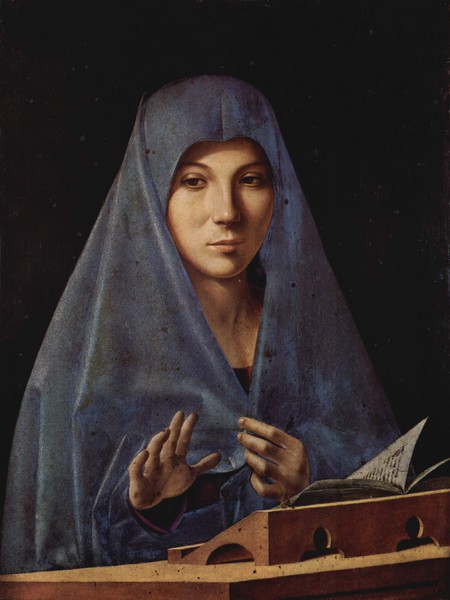 This year I had an amazing birthday present on Christmas Eve.
It was the great exhibit of Antonello da Messina at the MART Museum of Rovereto, near Trent. I really enjoyed this experience. The exhibition layout was clear and each piece was well arranged. I very much like all Antonello's works, but, this time, I was especially impressed by one of them.
The Annunciata (Palazzo Abatellis, Palermo) is one of my favorite pictures. More than an work of art, it seems to be a poem or even a prayer. In such a small dimension (about 35×45 cm) you can see the essence and the spirit of the Italian Renaissance.
It's a perfect portrait. It's not only a realistic picture like the Flemish ones, but also a perfect expression of the great achievement of Italian painting.
In my personal opinion, it is a psychological, spiritual portrait. It reminds me of the famous words of the Magnificat. The humble gaze glances down and seems to look at an invisible presence around her. The gesture of her hands is pure and simple, but at the same time seems to bless you. The parapet looks like a perspective plane and the wooden book rest is like a piece of architecture.  A page of the book is flying like an angel's wing.
Everything reminds me vividly of the same impression I had many years ago in Monterchi (Arezzo) when I saw the astounding Piero della Francesca's fresco, Madonna del Parto.
We must admit that Jacobello was right when he described his father Antonello as "more than a human painter". We can reasonably add "divine".