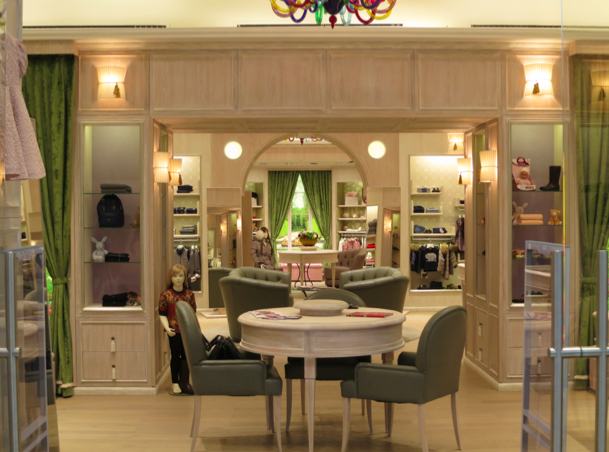 Imagine a store for children in a great, crowded, brand new shopping centre.
Imagine to create a cozy and intimate atmosphere to make your little customers comfortable.
Imagine to be able to suggest the quality of the Italian lifestyle: Made in Italy in the air, on the walls, in the lights… in the general atmosphere.
Now, watch this become real, thanks to a 100% custom designed, Made in Italy project by ermesponti.
Italian atmosphere? Just ask!
In order to make such a dream come true, Poddaponti architetti had, in the first place, the idea of creating a scene from an historic Italian palace.
In fact, entering the store you get the feeling of being inside a Renaissance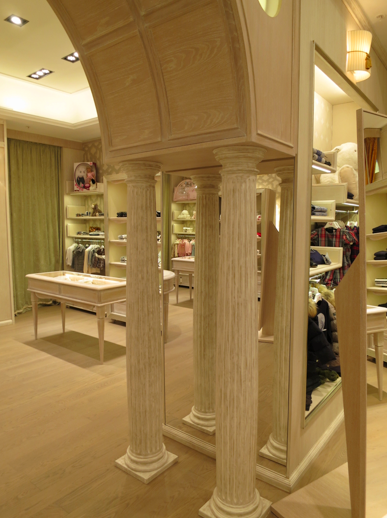 palace, with three rooms communicating with each other, open to imaginary Italian gardens you can stare at thanks to some stunning photos mounted on light boxes (mounted so accurately that actually customer happen to try to open the fake window).
The proportions, the choices of materials and furnishings, the whole project give such a feeling of spaciousness… you can forget about the crowded and chaotic mall.
Once inside, you can find the Italy of Palladio.
The interiors – various rooms charachterized by niches and coordinated lockers – the large bow window at the very end,  the serliana solid oak with a pickled effect… all this speaks a precise language.
The language of these environments is – no doubt about – Italian.
The Italian language of architectural tradition, and perfectly-made interiors.
You can indeed find, in this Kazakhstan shop, the Palladian proportions (in the serliana) and the typical artisan care for details only Italians are able to produce, plus – finally – the look + feel of the fashion products available in the shop: all Italian brands!
Made in Italy as user experience.
From the first look you have at the interiors, when you step in to the feeling of well-being that comes by walking around…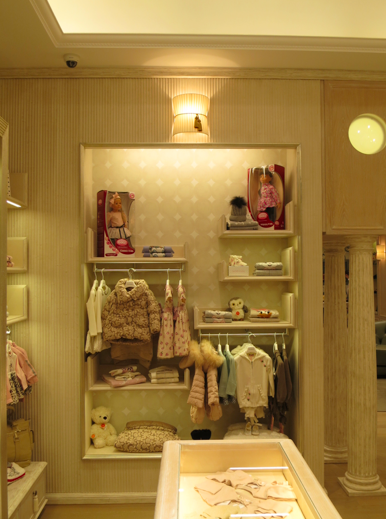 the whole store can be defined as a true Made in Italy Experience.
In there, everything is 100% custom designed in Italy.
Among the contributors to the realisation of this retail shop: Berto Salotti for sofas, Dedar Milano for curtains and wallpapers in the bottom of the niches and also a small artisan of Murano for the stained glass blown chandelier.
And the brands represented in the store, of course,  convey the glamour of the Made in Italy fashion taste: ArmaniJunior, Dolce & Gabbana, GF Ferrè, Missoni, Monnalisa, Versace Boys…
Designed in Italy = Value for money.
The designed in Italy, as we do in ermesponti, shows an extraordinary value for quality-time-cost, unbeatable for this quality.
What is often considered an unattainable luxury – bespoken or tailored interiors for instance – is not necessarily costly.
Our end-to-end approach maximizes every element of the design and construction process, keeping everything under control.
In other words: quality at the highest levels ever and short design/production process.
The qualitative results and economic are amazing, in Almaty as in New York or Mantua or… your place, wherever it is :-)