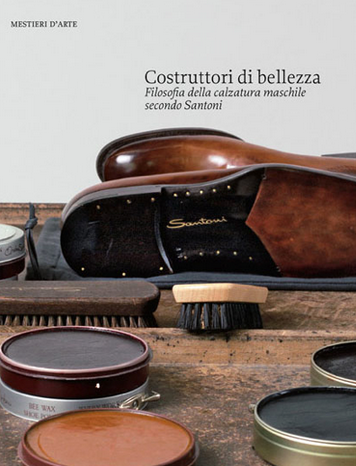 Passionate as we are of well done work – the work of which we try every day to be Italian masters – we came across an intriguing book.
We're talking about "Costruttori di bellezza – Filosofia della calzatura maschile secondo Santoni", book published by Marsilio and dedicated to the shoes company Santoni, located in the Marche region.
We'd like to share some views on the presentation of the work and also a wish to our ecosystem, made of customers, suppliers, craftsmen,  friends and talents.
First, the storytelling of work is as important as the work itself.
We realized that  the "savoir faire" must include a "faire savoire" attitude. This, in the first place, made us like this book right away.
Secondly, nowadays it's important to put the work of Italian companies at the center of general attention: it's an essential support to our economy!
Let's mention two cases, of which we're part: Rennaissance Link and Italian Factor.
Finally, it's time to create contacts and relationships not only for the usual activities of production and sales, but focused on relationship and networking.
And about the wish…
Simple: let all this… just come true, in a spirit of renewed confidence and renewed competitiveness of our ecosystem, because it does have the numbers to win any goal.
A Merry Christmas and a wonderful 2015 to all!