Flipping through the slick pages of one of the most famous Italian design magazines (Interni 650)  I felt lost. The issue is about the last Salone del Mobile 2015 and its size seems bigger than ever, boasting over 400 pages about all the new collections, products and trends launched by Italian and international big brands.
But finally, 30 pages before the end,   I found something very special that enhances the whole magazine.
Here I found some very interesting interviews with the leading
figures  of this  design season: from the omnipresent
Michele De Lucchi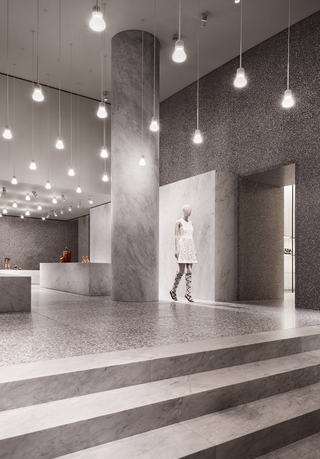 with his new studies
"La passeggiata" for the workplace
,  to the undisputed design star,
Antonio Citterio
, or the brilliant Gabriele Centazzo… just to mention a few of them. Every interview was really readable and fascinating, I must admit that one in particular was super special for me as I feel a strong affinity with each quote of the interviewed person, the
British architect David Chipperfield
, of whom you can see, above – the Valentino Flagship Store in Rome, just to name one of his extraordinary projects.
He and David Chipperfield Architects in Milan also  designed the new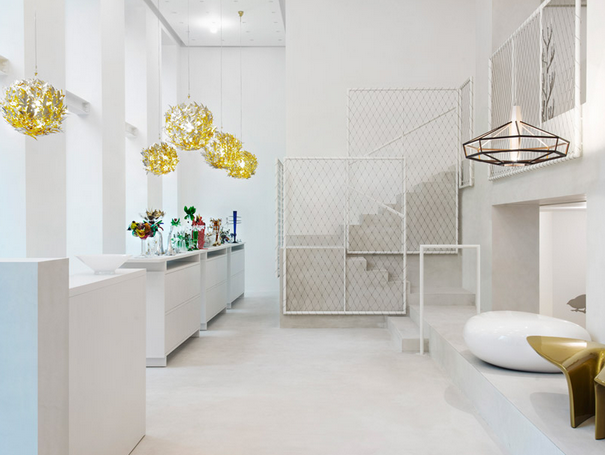 showroom of Driade in via Borgogna (shown)  as a neutral, pure, simple container conceived as an art gallery space.
Let's go through a few of his remarks.
" All of us – as human beings first and then as architects, designers or art directors – face a universal challenge to grant meaning of life".
It may seem too philosophical, but I really liked this quote as one of the most significant aims of everyday life for each of us. I am not joking.  If we reminded  ourselves of this each day, the world could really change into a better place.
When he was asked to take part in the new Driade adventure he commented:
"I did immediately respond. I am an architect, I don't know how to be an art director. In the end it's all a matter of having ideas".
I love such kind of humility, but also the precise sense of the final answer which  concerns the essence of  invention both in architecture and in industrial design – having ideas. Once, during the initial period of Italian design after the war, all the designers were architects by training and profession (
Gio Ponti
,
Carlo Scarpa
,  
Achille Castiglioni
and so on…). They combined the cultural heritage of the theory of architectural composition with the culture of making of small Italian companies in the Brianza district of furnishing. They did a revolution, using their simple problem-solving approach and the legacy of Italian architecture and applied art.
"Architecture is design. Everything is a project."
Of course, he explained better, saying that
"the information involved in the design of a museum is much more complex than what goes into the design of a table"
…and not only the info, we should also say the skills and the sense of space. He also recognized he doesn't have
"the particular ability furniture design needs to have"
 – he also mentioned
Mari
,
Morrison
,
Grcic
 – but in the end he admitted again, as an excuse:
"I am an architect".
I appreciated and admired the crystal-clear answers of this giant of contemporary architecture. Behind his British aplomb and savoir-faire, I recognize his subtle opinions not only about how it is super difficult making architecture in Italy ("especially if the public administration is involved"). This is – unfortunately – undeniable. Talking about the future of the "healthy fashion and design industries" he warns…
"that  they should not be squandered, though it could happen very quickly"…
Pay attention, guys: everyone has been warned by David Chipperfield 's brilliant considerations.
Chipperfield seems to suggest that the wind is changing for the world of design. He goes to say:
"it's a new question because we have to start asking ourselves

how many new products we really need, to be more aware, to formulate a different idea of growth. We have gone from needing to wanting and design has shifted from supplying necessary goods to stimulating the desire for things that aren't needed. This is why we have to be more aware of the role of design and products. It is a big commitment for a furniture brand that has to carefully evaluate the quality and durability of things. The project has to have integrity and that happens when it has a reason to exist. "
The first quote was not so theoretical, we agree with you and take note, thank you, Mr. Chipperfield.
(Daniela Podda)