Sometimes design an architectural facade for a fashion brand means something more and it implies some background questions: What's the brand identity? What's the meaning of the facade of its new flagship in the most important fashion street of Shanghai?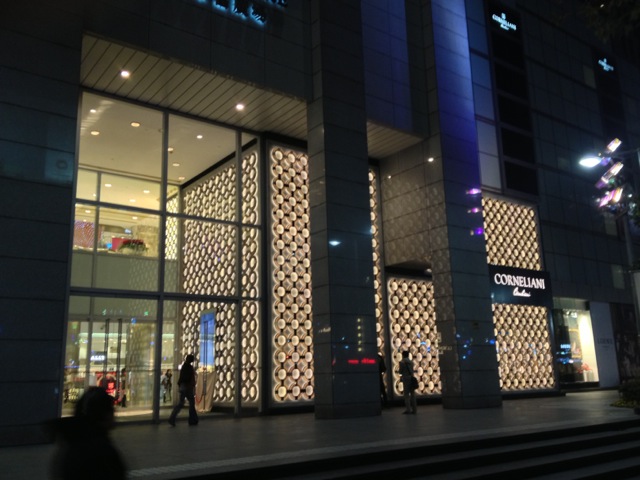 We knew that one of the key brand value of Corneliani was the excellence of its bespoke production in the factory of Mantua, one of the  most  beautiful cities of the italian Renaissance. We live in Mantua, we studied for years the historic buildings of Leon Battista Alberti, Giulio Romano and Andrea Mantegna here. All those things are part of our own architectural background (http://www.poddapontiarchitetti.it/about_us).
That's the reason why it came natural for us design the new facade pattern of the Shanghai Corneliani Flagship re-using and bringing up to new life something that belongs to our history: one of most recognizable pattern of the italian Renaissance painted by Andrea Mantegna on the walls of the Camera Picta frescos (http://www.mantovaducale.beniculturali.it/Page/t01/view_html?idp=221).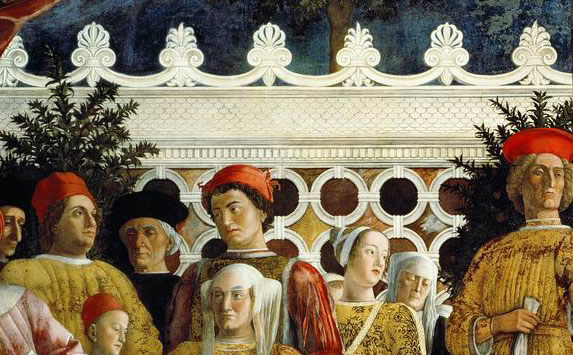 So – I must admit it- we were very proud when Sergio Corneliani, the art director of this important italian fashion brand, for which we have been working as architects for several years, decided to replicate the pattern of the store facade in his new fall winter collection.
It was amazing and a big surprise when, during the opening event  in Shanghai and the fall winter 2014 Corneliani fashion-show, we recognized the facade pattern on some sweaters! (http://www.youtube.com/watch?v=QW-f9GxWRq4)
Wow effect: painting can inspire architecture and architecture can inspire fashion! It's the miracle of italian culture and lifestyle. It's ages that such a little boot-shape country is leader in exporting its design all over the world!
Have a look at the whole history of the concept in this video: